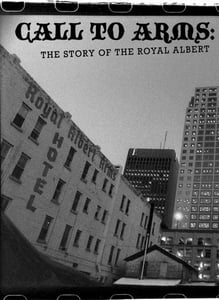 $

20.00
DVD release for CALL TO ARMS: The Story of the Royal Albert
Nüman Films is proud to present an edgy documentary about Winnipeg's legendary rock grotto – The Royal Albert. Located inside the historic Royal Albert Arms hotel, this infamous live music venue has been a fixture on the Winnipeg music scene since the late sixties, and has been compared to CBGBs in New York and London's Marquis Club.
First time director Randy Frykas explores how this dingy little club has stood the test of time and continues to be a major hub in Winnipeg's cutting edge music scene. Produced by Jeff Newman.
DVD includes:
45 minute documentary
Official film trailer
Audio commentary with Randy Frykas and Sam Smith (Artistic Director - Royal Albert)
Bonus interviews with Propagandhi, Sloan, Bif Naked, Charlie Harper, Johnny Sizzle, Pip Skid, UK Subs, Nomeansno
Additional live performances by Electro Quarterstaff, Hot Live Guys, High Five Drive and The Unwanted
Music video: Kids On Fire "Pure Passion For The Desperate Masses"